What is dry eye syndrome?
Dry eye syndrome is a common problem that can range in severity from mild to severe. This is caused by a disruption of the tear layer that normally coats the surface of the eye. Symptoms include:
Burning
Redness
Itching
Tearing
Crusting of the eye lashes, especially in the morning
Feeling of eye irritation or "something in the eye"
Blurry vision, especially with certain activities such as reading, using the computer, watching TV, driving
Light sensitivity
Eye fatigue
What causes dry eye syndrome?
Causes include:
Environmental factors: hot, dry climate, wind, dust
Eye inflammation: allergies, eyelid inflammation, eye injury or surgery, contact lens use, infection
Systemic conditions, aging, autoimmune conditions, thyroid, diabetes
Neurologic conditions
What tests can look for dry eye syndrome?
Tests can be done in the office including looking at eye sensation, tear layer stability, damage to the surface of the eye, tear production, and eye inflammation. A blood test can also be performed to look at autoimmune associated dry eye and Sjogren's syndrome.
What is the management for dry eye syndrome?
Depending on the case, different treatments for dry eye syndrome are used including:
Artificial tears
Substances that last longer such as gels or ointments
Warm compresses
Lid hygiene
Reducing eye inflammation
Punctal plugs
Prescription dry eye drops
Increasing omega-3 intake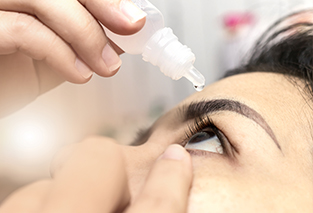 Our Locations